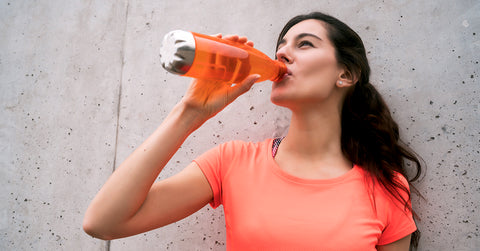 PMS weight gain. What can you do?
Am I gaining weigth or is it PMS?
PMS, or premenstrual syndrome is a wide range of physical, emotional, and behavioral symptoms that affect women several days to two weeks before their period. PMS is extremely common, and experts say that it is experienced by over 95% of women.
You might notice that before your period your clothes feel tighter and if you get on the scale, you might be horrified to see that your weight is increasing (HELP!) even if you have not changed your diet and you have not missed the gym.
Weight gain during your period is completely normal
Don't panic, you are not doing anything wrong, and you are not eating in your sleep. Weight gain is caused by the hormonal changes during the menstrual cycle that increase water retention.
It is mostly water!
Estrogen and progesterone control the way you regulate fluids, and when these hormones fluctuate, your body tends to hold on to more water. This is called water retention or edema. Water retention can show as swelling or puffiness in your face, fingers, feet, abdomen, or even your breasts (flaunt that extra cleavage, girl!). Nevertheless, as much as it alarms you to see the numbers on your scale climbing, this weight increase is not fat, and it goes away after your period ends. During your period, it's normal to gain three to five pounds! Yikes!
You can do something about it
As much as it is a common symptom, you certainly don't like to feel uncomfortable in your clothes and body. Don't worry, there are steps you can take to help yourself feel better.
—Don't give in to the munchies
Have you noticed how PMS can give you intense cravings for those comfort foods you know you'll regret? This is due to a rise in the hormone progesterone, which is an appetite stimulant. That's right! It's not your imagination, you do get hungrier when you are expecting your period, but this is not the time to give in to cravings. Try to make better food choices and avoid overeating.
—Help your digestive system help you
It's common for healthy women to have digestive issues before and during their period. Avoid foods that you know are hard to digest. Stay clear from any foods that worsen bloating or can give you constipation such as broccoli, cauliflower, cabbage, or refined flours, at least during those days. Constipation means you are carrying waste that weighs you down.
—Don't skip that gym class
We know! PMS is whispering in your ear that it's best to stay in bed while you watch a movie and eat that bag of snacks. But wait! This can only help you gain weight on your period, the kind that is NOT water. You don't have to program your most challenging routines for this week, go easy on yourself, walking or slow yoga can help you prevent or get rid of that extra water weight.
—Magnesium is your friend
As your period begins, magnesium levels decrease gradually, and this drop can bring on food cravings (be strong!) and hunger. Magnesium is a mineral that regulates your body's hydration status, so it is a good idea to make sure you supplement with magnesium especially at this time of the month.
Relax!
All the symptoms that can make you gain weight during your period can only get worse if you are stressed. Remember there are many things you can try to reduce or prevent PMS symptoms. Meditate, get a massage, sleep more, everything counts!
You can help yourself feel better…hemp is on the way!
Now wouldn't it be cool if there were vegan products that could help making PMS easier for you? Holief™ is here to help! We have a complete line of hemp-infused products so you feel empowered, every day of your cycle!
Holief™ PMS Line: The Relief You Wanted
Holief™ PMS is a product line built around pure and rich Hemp extract, to promote feminine wellbeing. The herbal mix you will find in this product line works to aid in relaxation and relieve pains related to menstrual cramps.
Some of our special PMS products include:
Holi-Cramp. Relaxing cream with olive oil, vitamin E, MCT oil and infused with Hemp extract. This topical product is formulated to bring relaxation and lasting relief to the lower part of the abdomen. It helps with discomfort associated with moderate menstrual cramps and is ideal for daily use. It is fragrance-free and easy to carry. Use as needed and enjoy the benefits of the purest natural Hemp extract.
Holi-Cramp Plus. This cream is recommended for strong menstrual cramps and can be used any time during the day. It helps to relax the lower part of your abdomen and brings relief for discomfort associated with menstrual cramps. It contains the same natural ingredients as Holi-Cramp, but It also adds menthol, for a more effective calming and relaxing effect.
Our creams have a certified hypoallergenic base, are paraben free, and use no artificial coloring or scents. They are formulated with natural botanical oils to moisturize dry and sensitive skin.
If you don't prefer creams, we've got you covered with PMS Gummies (delicious natural watermelon flavor) and Holi-Mood Oral Drops. Both products can help you improve your sleep and support emotional balance and relaxation during PMS. Take on your day with grace!
References
https://www.mayoclinic.org/diseases-conditions/premenstrual-syndrome/symptoms-causes/syc-20376780
https://healthyeating.sfgate.com/control-food-cravings-before-menstrual-period-2176.html